PEE Project - Cracking Drywall: It Is Not Always Soil That Causes The Problem.
Prior to calling PEE, our client retained the

services of another soils engineering firm to evaluate the cracking of drywalls in their residence. Numerous cracks were observed throughout the lower level of the residence, directly under a second story addition.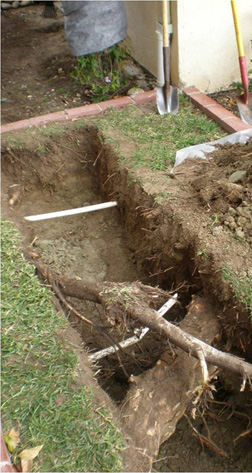 The previous firm retained by our client told them that they suspected soil-related issues, were also concerned about the structural integrity of the second floor addition, and requested that our client authorize soil testing as well as obtain a structural engineer consultation regarding the second level addition.

Our firm was contacted to evaluate the cracks and provide a second opinion. We determined, after our first site assessment, that roots from a large tree in the neighboring property traveled under the foundation of our clients' residence and caused the observed distress. We requested a trench be excavated in the area where we suspected the tree roots existed near the foundation and we confirmed that tree roots caused the cracks.
In a pursuit to recover damages, our client was faced with a huge legal battle when they filed a claim against the insurance company for the neighboring property. Armed with high-paid legal counsel and experts, the insurance company objected to their claim.
Again, the client retained the services of Private Eyes Engineers. But this time PEE was retained as an expert witness. Two years later, our client won their case against the insurance company. Our client was 100% reimbursed for all the anticipated costs of their claim.